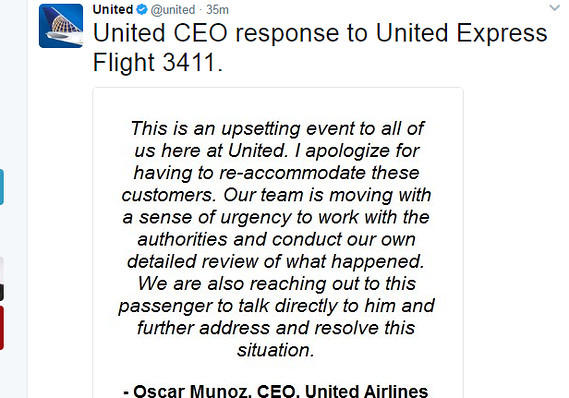 I agree that the CEO blew it in not responding in the best way.  It was very lawyerly.  However, even though the shocking video is making the rounds, UAL stock will be just fine.  Do you remember any airline-related bad PR from 6 months ago?  Odds are, you don't.  If a ticket is cheaper than the rest, you will end up buying it.  UAL will be just fine in a year.
If UAL corrects, as a result of this PR disaster, I may just start buying.  Value investors look for "special situations" like this to present buying opportunities on a silver platter.
United Airlines CEO Oscar Munoz blew it, says Brett Arends.
Source: What United should have done in response to that video of a man being violently pulled off a flight – MarketWatch